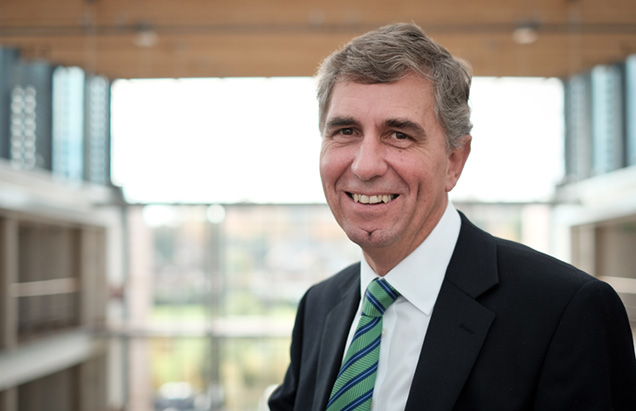 Roger Pope, Chair of NCTL, has been visiting schools in London and Essex to find out more about how they're supporting others.

Harris Greenwich Academy
It was inspiring to visit the Harris Greenwich Academy to see how an outstanding school is helping to play an active role in leading the school system. Principal George McMillan has taken the school from special measures to outstanding in just 5 years, and talks passionately about how he did this in partnership with Chris Tomlinson, Executive Principal within the Harris Federation. They are a great example of the power of schools supporting one another in alliances and groups, and of one head mentoring another.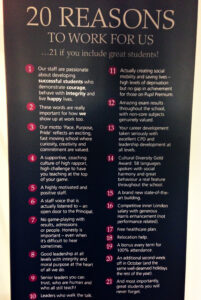 George, in his turn, is developing a track record of developing his own leaders who are then being promoted within his own school and others. One outward sign of this that struck me was the large banner in the foyer headed "20 reasons to work for us". I posted a photo of it on Twitter, where it also struck a chord.
We all know that recruiting staff becomes increasingly challenging as the economy develops but here is an excellent example of a school being very proactive in its recruitment. This is so important now that over half of all trainees are for the first time on a school-led route or in a SCITT.
The banner also sent a message about how groups of schools can help recruitment and retention by offering staff a career route within the group from initial teacher training through to executive leadership. This is rapidly becoming an increasingly popular model across the country.
Essex
Until now, the closest I have  been to seeing how Essex is educated is through the well-known television programme! So it was a great pleasure to talk with over 60 Essex headteachers at their annual conference.
We spent time exploring the successes of the school-led system and celebrated the fact that Essex has 22 teaching schools. We talked about the efforts that NCTL is making to ensure that we have all the teachers we need, and I told them about the £67 million that is being put into recruiting 2500 additional maths and physics teachers and supporting subject knowledge training to 15,000 non-specialist teachers.
I asked them to give me specific examples of the difficulties that they are still facing in recruitment, and invited them to email these to me, which some of them did. If you have comments and specific examples of difficulties you are facing, please email me: I may not be able to solve them, but it helps to make sure that the development of future policy is grounded in the reality of all our schools.
St Thomas More's Primary: a real gem
I then went to meet Bridget Harris, Headteacher of St Thomas More's School in Colchester. She was joined by the heads of some of the other primary schools in their teaching school alliance and I was privileged to listen to the successes that this group of 8 schools are having.
There was a great sense of mutual support in a group of schools who were openly sharing problems and collaborating on their solutions. One example that sticks in my mind is of an specialist leader of education working in a school on the coast in challenging circumstances who raised their KS1 phonics score from 27% to 75% in a single year. These are all fairly small primary schools, showing that you do not need massive scale in order to make a massive difference to the lives of children.
Colchester County High School for Girls
I ended my day in Essex by meeting the deputy and assistant head who together are running the new teaching school based at Colchester County High School for Girls. The school has been designated in the most recent round and so is developing a new alliance. This is a school that is determined to make a difference in some of the most challenging schools in the county. They have great experience of research and development and so are very focused on developing teaching practice which is grounded in evidence. This is the start of a very exciting project.
It was an inspiring day at 3 very different schools. It is clear that those who are educating Essex are embracing a school-led system and shaping the future in the way that they want. I'll be back!
---
If you have any questions or feedback, please comment below. To keep up to date with this blog, you can sign up for email updates or follow NCTL on Twitter.
For more information or opportunities to get involved with our work, visit our pages on GOV.UK.