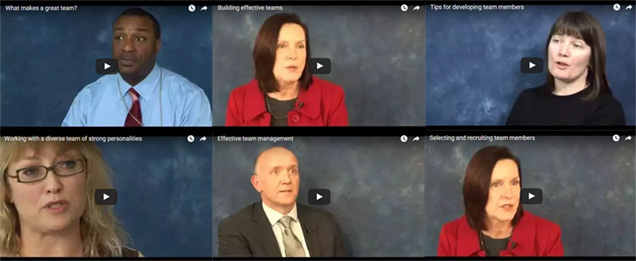 We've gathered together a collection of videos on building, managing and developing teams, to help you develop the teams you manage and your own leadership skills.

What makes a great team?
Four leaders address this important question and provide some advice on how to successfully build an effective team. They look at the qualities and characteristics of a good team, the importance of communication and how to encourage a supportive team environment where everyone can reach their potential.
Building effective teams
It's important to allow yourself the time to build your team, so that you can better understand its strengths and weaknesses. Jill Berry, an educational consultant and former headteacher, shares her advice for establishing effective teams and identifying areas for development.
Effective team management
Good team leadership is as much about your leadership style as it is about delivering everyday effective management practice. Good leaders also understand the importance of giving team members a voice so they can actively contribute their ideas in a supportive environment.  Five experienced team managers offer practical advice to help you manage your team in the most effective way.
Selecting and recruiting team members
Having a team that works well together, with the right combination of skills, is vital to the effective management of a school.  Jill Berry discusses how to get the balance right, and why it is important to look at your existing team's skills and strengths before recruiting new team members. She also offers some examples from her time as a headteacher, when she reaped the rewards of bringing in people with different strengths to her team.
Tips for developing team members
Ensuring that every member of your team has the opportunity to develop their career is a crucial responsibility for team managers. A number of speakers share advice on taking a tailored approach to staff professional development, and discuss how allowing staff the freedom to try something new can make a difference.
Working with a diverse team of strong personalities
Ensuring that different personalities in a team can work together towards a shared objective is vital to the success of projects. Sara Hopkins describes the challenges she had to deal with when she was faced with a team of strong personalities, and how she overcame these to successfully achieve a shared goal.
If you want to read more about managing a team, take a look at the following:
---
If you have any questions or feedback, please comment below. To keep up to date with this blog, you can sign up for email updates or follow NCTL on Twitter.
For more information or opportunities to get involved with our work, visit our pages on GOV.UK.