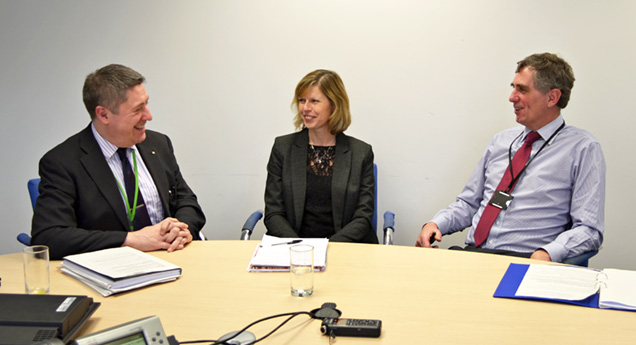 Teaching school alliances are leading the development of a school-led system, but how does that work in practice? How are they improving children's lives? What can they offer your professional development?
To answer these questions, 3 school leadership experts took an in-depth look at the work done by teaching school alliances:
Lesley Birch, Executive Principal Histon and Impington Junior School, Cambridge and Teaching Schools Council representative
Roger Pope, multi-academy trust Executive Principal and NCTL Chair
John Stephens, NCTL Teaching Schools Deputy Director
You can listen to the full discussion or read some of the short sections we've selected below. If you'd prefer, you can also download the mp3 file.
Teaching school alliances work with hundreds of schools
Roger Pope: So tell us about your teaching school alliance, the Cambridge Teaching Schools Network.
Lesley Birch: We are a mixture of secondary and primary schools. We started initially with our remit to all sponsor another school. That was our initial getting together really. One school was designated – Comberton Village College – in cohort 1, then they invited other schools locally and we became designated in smaller groups, so we're quite a large network. As a result I think that has given us the confidence to grow, within and across the teaching school but also to develop our own MATs [multi-academy trusts].
Roger Pope: So how many schools have you got then?
Lesley Birch: In our trust we've got 3 schools and we're about to get a brand new school.
Roger Pope: And how many are in the network?
Lesley Birch: In our network we've got 5 schools on the strategic board – 4 are designated teaching schools – and then all their partner schools.
Roger Pope: So how many schools in total do you think are engaged with the alliance in one way or another?
Lesley Birch: Lots of schools. I think in the last count it was something like 150 schools that we actually engage with in various ways. And as we work very closely with the other teaching schools on things like school to school support and CPD, so we're trying to make our networks bigger. Although we work individually at times, we still encourage collaboration.
Collaboration improves teaching and learning
Roger Pope: We have over 30 schools in our teaching school alliance which is the South West Teaching School Alliance, and the feedback that we get from the heads and the leaders and the teachers involved is that that's the bit [collaboration] that they really value and they value the fact that they are having those conversations across LA boundaries. They leave behind all of the political with a small 'P' stuff and all of the kind of arguments about catchment areas and budgets and all that, and they just talk about teaching and learning. And we've found that these subject groups that we've set up across those boundaries have been really successful.
I think particularly in the context where increasingly in a school-led system the Government says to schools, "Well, okay, so there is a problem but you solve it," assessment without levels is the classic example which is on everybody's mind. So we've regularly had over 30 senior leaders turning up to the meetings of the group looking at that because it offers them a fantastic forum for collectively solving a problem, rather than though they're feeling as though they're on their own and isolated.
Lesley Birch: And there isn't a right way or a wrong way is there? You can make it fit your context.
Building a profession in control of its own destiny
John Stephens: Do you want to tell us a little bit about what the big advantages for you have been [of school-led initial teacher training], because you've always attracted great teachers to your schools otherwise you wouldn't be where you are now, so what's been the real drive? You Lesley for example identified it as one of the big successes [of your teaching school alliance]. What's been the real drive behind those school-based routes that you've both engaged with?
Lesley Birch: I think for us we were hosting students and unfortunately because we're so near to London they were disappearing to London so we weren't then getting the quality NQTs [newly qualified teachers]. So we felt that we were going to close that gap.
Also for our teachers, our staff, it's really important – they become coaches and mentors, developing themselves as well, and it ups their game completely. And they feel quite proud and privileged. I think you have to change hearts and minds don't you? Some people found it a struggle because there is the downside of that but I think now, looking on a couple of years, people would say it's really positive and it's enabled current practitioners to step back, look at their children, review what they're doing and feed back, and so it's always two-way, whatever you do. It's always symbiotic isn't it?
John Stephens: One of the things we sometimes hear is a comparison between the teaching profession and, for example, the medical profession, where in the latter there's a far greater sense that that profession owns its own destiny to a certain extent, and that perhaps we're not quite as far along that road as perhaps we need to be in the teaching profession.
Thinking about some of the things that you've been doing in the school-led approaches to ITT [initial teacher training] and the CPD work and the outreach work you've been doing, how do you think the school-led system – teaching schools, SCITTs [school-centred ITT] , those sorts of things – are contributing to building that sense of a profession in control of its own destiny?
Lesley Birch: I think it's developing. I think people are starting to realise that if they don't stop and reflect on their own practice, they're actually not going to get any better and then you stagnate. And therefore using all those mechanisms, we've started to get our 'tube map' which is always going to be changing because the world is changing and that's what education is about. If we're doing the same thing as we were doing 10 to 20 years ago then we're not educating for the future are we?
And I think actually we're allowing and enabling other people of all levels to have a say – whether they're NQTs, RQTs [recently qualified teachers] or established teachers. I think secondary schools were perhaps a little bit better in terms of professional development and taking ownership of that, maybe because they had a bigger organisation so they could do it. Whereas now I think primary schools are working with secondaries and I think that is really positive, that cross-phase work. It wasn't always there. We've enabled our phases to take a little bit more control and have the input that they wouldn't have done [before], and I think we've got a lot more people taking on extra courses – they're chomping at the bit now.
John Stephens: It is interesting, isn't it, how traditionally we've chopped up children's educational experiences rather arbitrarily, and in different parts of the country at different points. You've talked about needing a structure but what you're describing is a far greater control over the kinds of structures that you have. As you describe in your MAT it's across phases and the traditional boundaries that existed there and transitions for young people are much easier, much clearer and much more coherent. Would that be fair?
Lesley Birch: Yes, because I think the relationships are there and it's all about relationships isn't it? Whatever we do, whether it's a teacher with a group of children or one child or a class or whatever it is – you have got to get the relationships right. And I think that we've enabled that structure to develop so that people are not suspicious of the other phase and that we can see that we're all trying to do the same thing. Secondary schools recognise that primary teachers have got a lot to offer, particularly to Years 7, 8 and 9, and vice versa. We're just learning all the time from each other.
Roger Pope: I think that's two of the biggest challenges for teaching school alliances as they grow from a small staff into building quite a big structure.
It's first of all, building that social capital, which you described as people getting to know one another and trusting one another. And secondly, it's building the organisation and not just expecting it to happen because the deputy head's got a couple of hours a week. But actually thinking through what's the educational leadership you need, what's the project management capacity you need to build in to make things happen. And when that starts to grow then I think you start to build an alliance of schools which really adds value to what individual schools are doing.
John Stephens: It's interesting, Roger, that you should shift us a little bit onto this notion of leadership, and both common sense and indeed research tells us that the greatest influence on outcomes for children is, of course, that really high quality provision, day in day out, from classroom teaching. Of course second to that and closely aligned to it, is the kind of leadership that encourages, and supports and grows great teaching.
To hear the conversation in full, listen below or download it as a podcast.
This is a new type of content we're trying out, so if you like it and you'd find more expert discussions useful, please get in touch with your suggestions for future topics by leaving feedback at the bottom of this page.
---
If you have any questions or feedback, please comment below. To keep up to date with this blog, you can sign up for email updates or follow NCTL on Twitter.
For more information or opportunities to get involved with our work, visit our pages on GOV.UK.