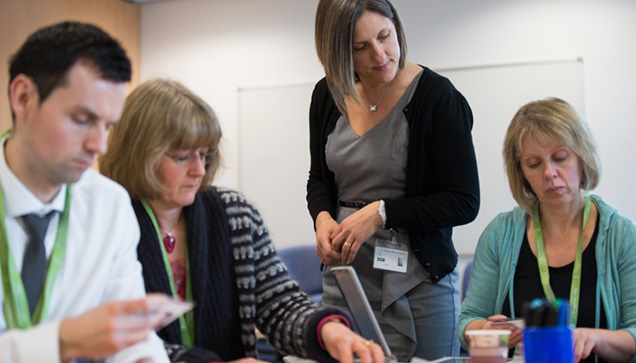 John Stephens, Director of Teaching Schools at NCTL, looks at the developing strategic role of school governors.
I have been really pleased and encouraged by the increased interest in school governance. The quality of governance has a specific focus in Ofsted inspections, and the Parliamentary Under-Secretary for Schools, Lord Nash continues to reinforce the important role that governors play in the strategic leadership of schools.
My experience of governance
I first became a school governor in the early 1980s as a teacher governor in the school where I worked. Meetings usually took place on a Friday evening and the main topics on the agenda were about drainage, traffic on the road outside school and the forthcoming school fair, the latter receiving by far the most attention. My colleague governors were people with a great deal of experience and expertise in business, politics and finance and I learned a lot from them, but they didn't see it as appropriate to apply their considerable professional skills to their work as governors. At that time, my experience of school governance was a long way from what we expect today.
When I became a head, I learned the value of having a strong, challenging and well-informed governing body. I didn't always have a comfortable relationship with them. They were often very challenging and I had to work incredibly hard to prepare well for meetings; gathering evidence, anticipating the kinds of questions I might face and making sure I was always on top of my game. Having a strong governing body made me a better headteacher but, most importantly, it drove school improvement at a pace and depth that would not have been possible without their strategic lead.
Developing the skills and expertise of governing bodies
There are now over 300,000 school governors in England, forming the largest volunteer force in the country. There's never been a better or more important time to serve as a governor, helping to improve children's lives and give them the best possible education.
As the education landscape has become more complex, it is more important than ever that all governing bodies can access training and development to support them in their role.
All governors can take advantage of our free training workshops, which address strategic themes:
understanding and using performance-related pay
understanding and using RAISEonline to improve school outcomes
improving financial efficiencies in school
It's also important to keep up to date with what other governing bodies are doing. To help with that, you might find it useful to take part in #UKGovChat on Twitter, a forum for governors to offer support and share good practice.
 Clerks to governing bodies
As a governor and then a headteacher, I quickly learned the value of expert clerking. At my first few meetings with the chair to plan our termly full governing body meetings, the clerk brought invaluable discipline, pushing us to think about what we wanted from particular items and reminding us of what we had to do to ensure that meetings worked well.
She was a great source of procedural advice and helped us to clarify the decisions we needed to make, as well as ensuring that there was a clear record of those decisions and a concise summary of how they were reached.
Recognising the importance of the clerk role, NCTL licensees offer the Clerks to Governing Bodies Training Programme, designed to develop the clerk's skills in supporting their governing body. A limited number of scholarships are available, covering up to £320 of the £399 cost.
Chairs of governing bodies
Some of the best chairs of governors that I have worked with have been significant contributors to the overall leadership of the school. They know the school well, not just from written reports, but also from direct experience of seeing the school at work and listening to the views of different groups.
As a head, I was always fortunate to enjoy a positive working relationship with the chair of governors. I was certainly held to account and my chair was very good at 'knocking the corners' off some of my rather less well thought through bright ideas!
Early on in headship I too often equated 'value for money' with 'getting the best price'. It was my chair of governors from whom I learned most about driving value from financial commitments. Whenever we were planning a new curriculum initiative or seeking to make any kind of improvements, he would always scrutinise the extent to which our investment would impact on pupils' learning. He was very good at testing the assumptions we were making by asking the 'so what?' question.
My chair was an avid consumer of training. He knew his strengths and he knew the things he was less good at too. He believed in setting a good example to other governors about accessing training and even though he had a full-time job, he would often attend training alongside new governors in order to support them and set a clear expectation that training for this important role wasn't optional.
To support the development of chairs, our licensees offer the Chairs of Governors' Leadership Development Programme, which is open to aspiring, new and experienced chairs. Units can be taken individually or as part of a programme and include important topics such as data analysis.
In 2014-15 we are funding scholarships of up to £320 towards the typical £399 cost of the programme.
National leaders of governance
As part of the development of a school-led system, we have now designated over 300 national leaders of governance (NLG). NLGs are experienced chairs of governance, who support the development of chairs in other schools. They are becoming an increasingly important part of the team of system leaders, having already provided formal support to over 400 governing bodies in 2014.
Additionally, in some areas there are local arrangements in place enabling NLGs to work alongside national leaders of education or teaching schools to provide a holistic approach to school-to-school support.
We need more NLGs, especially in those parts of the country where there is greatest need and least provision. If you want to know more about the work of NLGs, or are interested in applying to become one, have a look at the information on GOV.UK.
Raising standards to support a school-led system
The big challenge now is to ensure that all governing bodies are performing at the level of the best. When we look at what has been achieved so far, the strength of local and national support groups and the willingness of people to step up to become national leaders of governance, I think we can be optimistic about success.
Lord Nash has compared good governance in schools to the practice we see in a charity's board of trustees or in a company's board of directors. Some governing bodies already meet this standard, but we all need to be doing more to attract the kind of confident, committed and skillful governors of the kind that I described earlier – those that set and articulate the strategic vision of the school and hold themselves and others to account for outcomes.
---
If you have any questions or feedback, please comment below. To keep up to date with this blog, you can sign up for email updates or follow NCTL on Twitter.
For more information or opportunities to get involved with our work, visit our pages on GOV.UK.