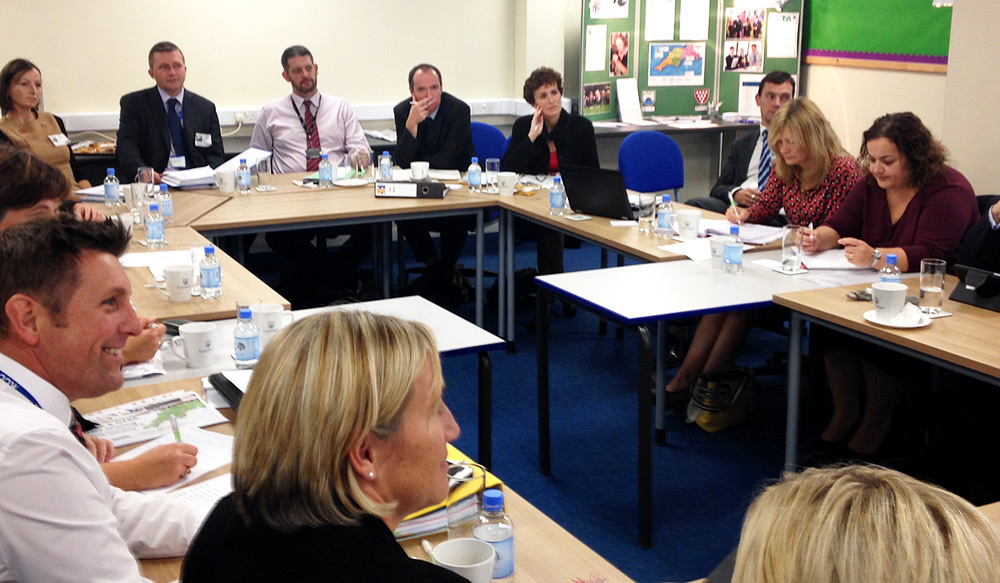 NCTL chair Roger Pope travels to schools from the south west to the north east to see what a school-led system can accomplish.
Headteachers sharing and learning together
I recently had the most amazing 2-day journey seeing the school-led system in action.
It started with the termly strategic meeting of the South West Teaching School Alliance, which my own teaching school is part of. The alliance has 41 schools and stretches from Cornwall, up through Devon and into Somerset. As headteachers, we use the strategic meeting to come together to learn from one another and plan our next steps.
We started the meeting early with coffee and pastries – I suggest that rule number 1 for any successful alliance is to build up the social capital. The relationships built up between people will be the glue that holds everyone together. Rule number 2 is to put in place good organisational structures, and to invest in these.
There were 2 main items on the agenda that for me epitomise the 2 pillars of teaching schools. Firstly, the moral imperative that drives us, that we will make things better for kids by collaborating. And secondly, that the key business of an alliance is to share existing knowledge between schools, and work together to create new knowledge.
So item 1 was a discussion led by Steve Margetts, Head of Torquay Academy, who outlined the key measures he has taken to lead his school out of special measures over the last 3 years. There was an air of admiration in the room at Steve's inspirational leadership, and a recognition that so much that happens in a school ultimately comes down to the leadership of the head. Do we have the vision, commitment and sheer guts that it takes to have high expectations of everything that happens in a school and to hold both staff and students to account?
The second item was led by Jon Lunn, who we have nicknamed 'Doctor Data'. It is a real tribute to the maturity of the alliance that all 41 schools openly share every single aspect of their data, and Jon's presentation mercilessly exposed where schools were doing well and where they needed to do better. The beauty of this transparency is that every school leader could identify which schools had similar characteristics, who was doing better and who they could learn from.
New system leaders
Then I took the train to Nottingham for the induction of new national leaders of education (NLEs) and teaching schools. This takes the total number of NLEs to over 1,100 and of teaching schools to over 750. Again, the passion in the room for sharing expertise and for taking responsibility for achievement across groups of schools was palpable and exciting. Here's one of the new NLEs, Paulette Osborne, explaining why she chose to take up this new role:
These are leaders of successful schools who are not prepared to sit on their laurels, but who want to collaborate actively with others in order to drive standards still higher. Talking with them and learning of their ambitious plans was simply humbling.
School visit
And then up to Newcastle. At the Sacred Heart High School, I learned of the excellent work that they are doing with their SCITT and School Direct schemes, and talked with trainees in science and English who could not speak highly enough of the quality of mentoring and support that they were receiving. I also heard of the work that the school does in partnering a school in Berwick, whose remote location on the coast of Northumbria makes it very hard for them to recruit and retain staff. This includes an experienced system leader working on a weekly basis with the leadership team, and investigating ways in which Sacred Heart's SCITT and School Direct trainees and NQTs can help to alleviate teacher recruitment challenges.
School-led conference
Then finally I travelled further into Newcastle for the SCHOOLS NorthEast Annual Summit Conference. What a location! Over 400 school leaders and governors gathered at St James' Park, working in partnership to improve the educational lot of children across the north east. The conference was not only a chance to listen and debate, but each year it sets the agenda for schools in the north east to work together to improve outcomes for children in their region.
These are stunning examples of the school-led system in action. SCHOOLS NorthEast is a partnership that involves schools right across the region. They have set up their own mental health commission to take a strategic approach to tackling a decline in child mental wellbeing, and established a regional recruitment portal for the north east, and much else besides. They also work closely with North East Teaching Schools, made up of every teaching school in the region, which is a marvellous way of them working together to make a difference.
Taking control of the narrative
I found myself sitting at Newcastle Airport late in the evening waiting for a flight back to Devon. A comment from one of the heads is ringing in my ears: "SCHOOLS NorthEast wants to take back control of the narrative". That's exactly what schools are doing under the school-led system: they know their pupils, their parents and their communities; they know what works best. NCTL is working to encourage and support them in doing just what they want to do – taking control of the narrative for the benefit of every single pupil in every single part of the country.
---
If you have any questions or feedback, please comment below. To keep up to date with this blog, you can sign up for email updates or follow NCTL on Twitter.
For more information or opportunities to get involved with our work, visit our pages on GOV.UK.