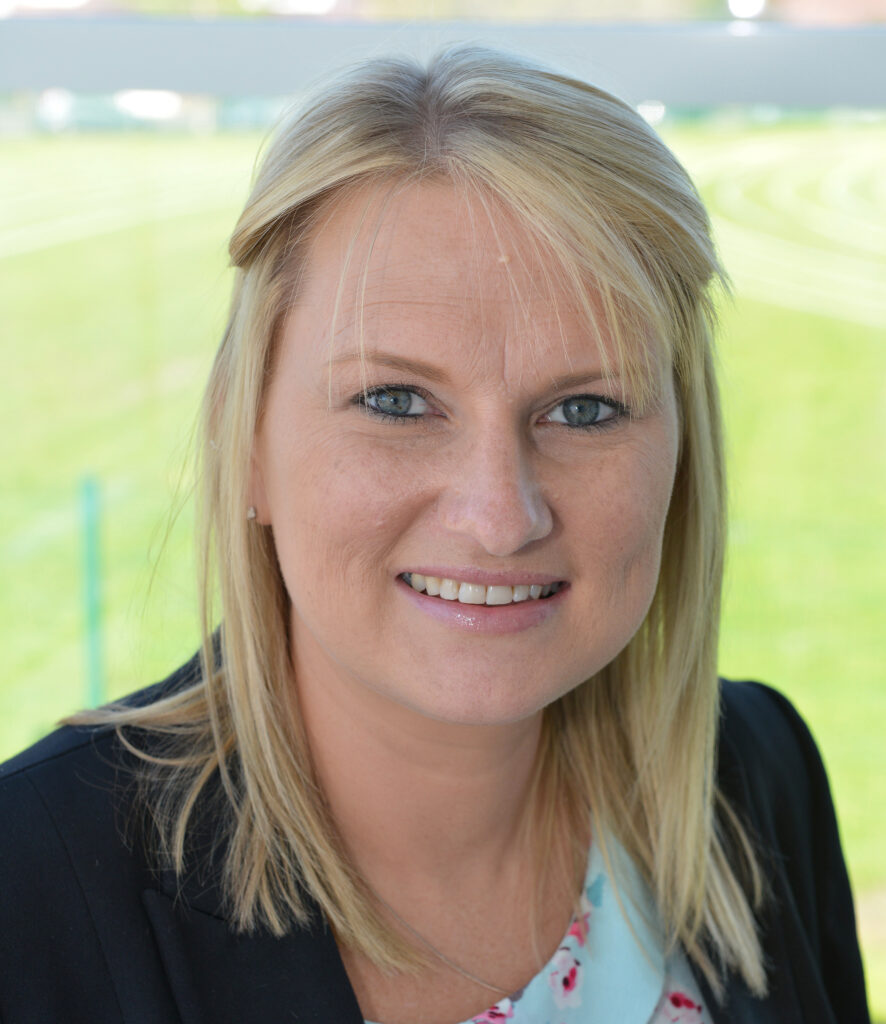 A north-west teaching school is drawing on the power of a large collaboration of schools to create a successful teacher training operation.
The Dean Trust Teaching School sits at the heart of the Dean Trust, a growing multi-academy trust made up of 9 primary and secondary schools in the Greater Manchester and Merseyside areas, led by the outstanding Ashton on Mersey School.
The teaching school was one of the first to be designated in 2011 and is built on what it calls the '5 pillars':
Their multi-academy trust (MAT)
External school-to-school support
School-centered initial teacher training (SCITT)
Their maths hub
Continuing professional development (CPD) for teaching, learning and leadership
The teaching school's rich menu of CPD, training, support and school improvement services is the result of a strong working relationship with 129 schools across the region. The Dean Trust Collaborative, as it is called, allows schools from diverse contexts to work together to tackle challenges, as well as providing the teaching school with a wealth of expertise and support that helps it to develop and deliver its services while the community of schools can access those services to their own benefit.
The SCITT, now in its third year, is an excellent example of this collaborative relationship at work. "Our main objective when we became a SCITT was to not only provide opportunities to support national recruitment challenges but also to build capacity within our MAT schools and our partners," explains Kate Baddeley, head of teaching school.
A recipe for a successful SCITT
The Dean Trust Teaching School's teacher training operation is certainly helping to meet this objective. Employment rates for the SCITT have been above the national average since it opened. Around 95% of trainees have gained a teaching post and 35% of these secure a place within either their MAT or partner schools.
The teaching school recruits around 60 trainees a year to its full-time PGCE programmes. Recruits are a mixture of university leavers and career changers.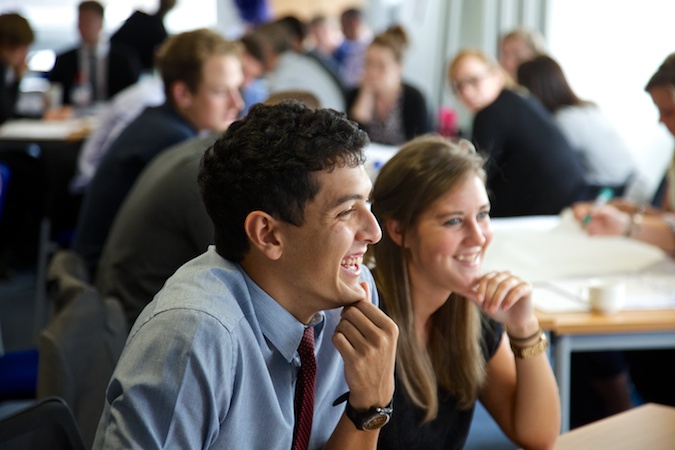 Their SCITT is complex. Partner schools not only host trainees but also contribute significantly to the core content for initial teacher training (ITT) and hold the teaching school to account, making sure that content is relevant to the current needs of schools.
The SCITT operates what it calls an 'A, B, A' model. Trainees spend time in their host school and then go to a contrasting setting for the second placement, returning to their first school for their final term. "Contrasting placements are really key to the development of an outstanding teacher," says Kate.
If they are in a leafy area for placement one then they'll be in an inner-city school for their second placement. We think that experiencing different contexts is vital to the development of high quality teachers.
Tackling teacher recruitment challenges is a major driver of The Dean Trust Teaching School's approach to teacher training. It offers several primary and secondary specialism programmes, for example secondary PE with maths or biology. "Schools are finding it hard to recruit good quality maths and science NQTs so this provides a solution," Kate explains.
We have had trainees in PE with maths who are now full-time maths teachers. It's about responding to supply needs.
The teaching school has also produced an online teacher training programme that retrains good or outstanding teachers to be able to deliver lessons from Key Stage 2 to Key Stage 4 and GCSE level in maths, regardless of their initial subject specialism.
Support for newly qualified teachers (NQTs)
Professional development and support for trainee teachers doesn't stop when they qualify. If trainees secure a teaching post with a partner school they get access to a rich programme of CPD devised by the teaching school and delivered in partnership with the SCITT and the partner schools.
This support includes mentors and access to a pastoral system and a year-long programme of NQT workshops, which take place at the teaching school.
"We encourage them to bring what they do in their schools to the workshops. It's about taking each other's ideas and bringing them back into their schools," Kate says.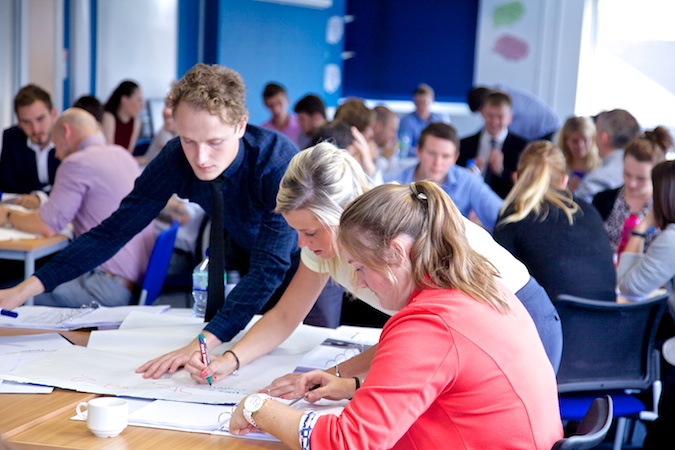 The teaching school measures the effectiveness of the workshops through questionnaires. NQTs can use the forms to comment on the usefulness of the sessions and share current concerns and issues that could become topics for future sessions.
As well as being a forum to share best practice the sessions are also a powerful morale builder. "They can see that everyone else is in the same position as them," says Kate. "Sometimes it doesn't feel like that when you might be in a school where everyone seems to have been teaching there for 20 years."
The teaching school feels that it is also important to stay close to each NQT's headteacher. "At the end of the academic year we'll ask heads how they found the NQT," Kate explains.
We're looking for feedback on areas such as whether they felt they were appropriately trained and if there is anything that we can build into our provision in the future. It also allows us to keep an eye on retention levels.
NQTs also get a termly bulletin from the SCITT updating them on policy changes, CPD opportunities, support and reading materials, and they're invited to return to share their experiences and advice with other trainees.
Training the trainers
Creating the capacity to deliver professional development on a large scale is another key focus for The Dean Trust Teaching School and, like the SCITT, powerful proof of the effectiveness of its collaborative approach with schools.
Their 'train the trainer' model gives schools across its partnership and beyond the capability to deliver training to qualified teachers in a sustainable way. Schools certify their readiness and capacity to offer CPD in their own schools. Then the teaching school provides leaders and teachers with training in the form of the Outstanding Facilitation Programme, giving them the skills to deliver bespoke CPD within their own schools.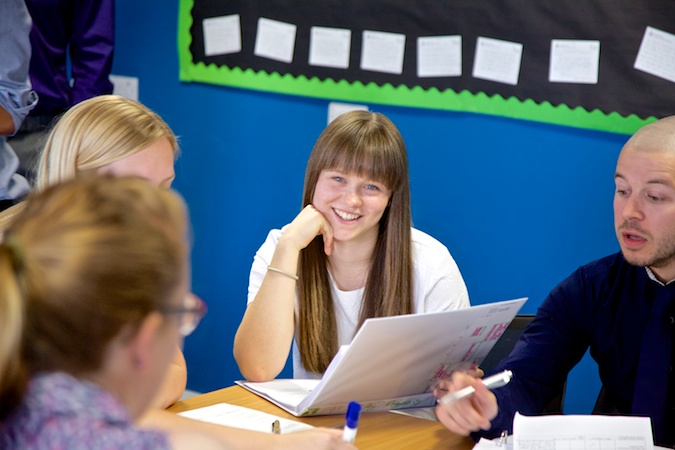 Newlaithes Infants School in Carlisle was the first school in Cumbria to undertake the Outstanding Facilitation Programme at the Dean Trust. Their headteacher and deputy attended and then began to deliver the Improving Teacher and Outstanding Teacher programmes to primary and secondary schools across the county, with good uptake.
Newlaithes maintained a relationship with The Dean Trust, getting advice and support that helped them improve the quality, logistics and practicalities of the delivery of the programmes. It's a productive and successful approach that is leading to bigger things for Newlaithes as the school was recently invited to explore how their role could be expanded further.
This model has also been rolled out on a national scale. After a rigorous selection process, NCTL commissioned The Dean Trust Teaching School to train specialist leaders of education (SLEs) from 16 teaching schools across England to train new SLEs. Subsequently, 5,000 SLEs were trained centrally by those 16 teaching schools, covering every region of England.
A clear rationale
Kate Baddeley suggests that any new teaching school looking at the teacher training function needs to have a clear rationale.
You need to be clear about your end goal. We took on a very complex model, which is addressing our teacher development needs, but you should ask if that is the right path for you. You need a strong strategic board. And you need that external challenge and objective view to test what you do.

School improvement starts with the training of our teachers and getting high quality teachers into the profession. I would advise establishing a clear understanding of what outstanding teacher training looks like. It's imperative to have a rigorous recruitment process with really tight quality assurance. That will help you to get the right people into the profession.